Horse Property For Sale in Reno!
View the latest horse propertiesfor sale in Reno or search for other real estate. With an abundance of open space, Reno offers the perfect environment for horses to roam free.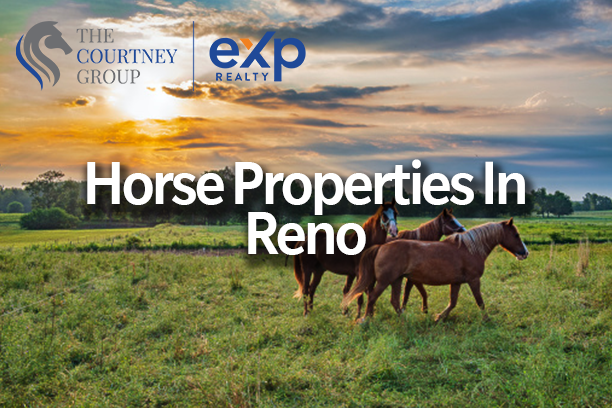 For more information on Horse Properties in Reno, or to schedule a showing, please contact The Courtney Group today!
If you haven't already, be sure to register for a free account so that you can receive updates whenever new horse properties for sale come on the market!
What's the market like for Horse Property in Reno?
Reno offers an amazing setting for horse properties with lots of land for horses to rome free. This makes horse property in Reno and equestrian homes a popular real estate option for many buyers. Reno, a city in Washoe County comfortably nuzzled in the Truckee River Valley, surrounded by miles of open space, perfect for horse properties!
Horse properties in Reno, Nevada can provide you with the luxury of space. No feeling of confinement here in these beautiful and colorful rural areas, just serenity and peace. These horse properties come packed with acreage and large pastures, which are available. now on the outskirts on Reno.
Thankfully, Reno is a great city for those who enjoy spending time outside of the city while remaining only a few miles away from most ammenities and services. Reno is perfect for those who love spending time with their horses, or traveling the outdoors on horseback. Reno offers thousands of miles of public land waiting to be explored, horses and horseback riding are a large part of the "Reno life" and economy. The city offers great resources for horse owners, and those who are interested in getting started.
These horse properties for sale in Reno come in all shapes, sizes, and styles. This gives you as a homebuyer, the control to pick the perfect horse property that suits you and your horses needs. Horse properties in Reno range from large acreage ranch style homes, comfortable two-stories, a modest one story with lots of land, or a large luxury estate.
Many of these horse properties reside on the outskirts of the Reno area, this is great for those who want lots of land and possbily water rights (depending on the property). This would allow for the possibility of filling a large pond and irrigating pastures.

The great thing about these horse properties, are the fact that many offer attached garages, barns, stables, and fenced outdoor spaces. These horse properties tend to have a big range in price, depending on the style, size, and location of the homes. These horse properties can be found between $700,000 to $5,000,000+.
Reno is not the only city in Washoe County that offers a beautiful selection of horse property for sale. We can help you find your dream horse property in any of the surrounding areas, while maintaining plenty of country side and a great home to raise a horse!
Horse Properties in Reno
November 28, 2023
Reno's Horse Property Experts!
Looking to buy and or sell a horse property in Reno? Let our team of experts lead the way and guide you through the purchase of your Reno horse property, or the sale of your existing residence. As your local realtor we have the tools and expertise to make your horse property journey one for the books!
Please contact The Courtney Group today to get more information. Looking to sell? Be sure to use our free home analysis!
Interested in Reno Horse Properties? Contact us today!
Horse Properties for sale in Washoe Valley!
Washoe Valley is the perfect place for you and your equestrian companion. Featuring acres of lush open land accompanied by beautifully built homes, you'll both have something to fall in love with.
Horse properties in Washoe Valley come in all different shapes and sizes but all have one thing in common, privacy! Washoe Valley is your very own private retreat hidden away from all the hustle and bustle of the city, without sacraficing your everyday amenities. Not only are horse properties in West Washoe great for your four-legged pals, but also for your family. With all of that open space at your disposal, think about the memories that could be made.